Security Camera and Video Surveillance Trends for 2017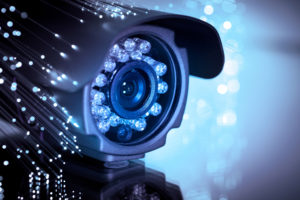 With ever-changing and advancing technology, there are many new security camera and video surveillance trends in 2017. The market is expected to reach $42.81 billion by 2019, according to a report from Transparency Market Research.
The study names increased security and safety concerns, and the need to monitor activities to detect intrusion, theft, and traffic surveillance as some reasons for this global growth. Current trends aim to meet the needs of this rising market, such as the major shift to IP-based systems, which produce video feeds with much higher resolution and video quality than that of analog.
What other video surveillance trends can the industry expect to see in 2017? We've outlined a few below.
Top Video Surveillance Trends
Software Developments  – According to industry experts, software developments will most likely lead the way in video surveillance trends in 2017. Jon Cropley, Principal Analyst of Video Surveillance at IHS Markit, believes the focus on software will extend beyond 2017. "Whether it be deep learning for video analytics or advances in video management, there seems to be a recognition that improvements in video surveillance system functionality will be driven by software," he said in a roundtable discussion.
Expansion of the Multi-Sensor and Multi-Directional Cameras – This trend is the reason the industry is seeing an emergence of new vendors and product lines with new configurations. Primarily dominated by one vendor, this expansion will introduce new manufacturers to the market segment to deal with the increased demand for more product options.
A Shift From "Enterprise-Class" to Private Use – While video surveillance has traditionally been used most in commercial settings, the past few years have seen a continuous commoditization of the offerings, according to Ron Grinfeld, Global Vertical Marketing Manager at FLIR Security. Especially in the case of IP camera systems, more and more products are showing up in lower-tier markets, now widely offered for homes and private use. As mentioned above, this is a major drive in the addition of more vendors in the market, and why the leading vendors are now forced to expand their product offerings. This includes the multi-sensor and multi-directional cameras, security drones and robots, and smart wearable cameras.
Addressing Cybersecurity Threats to IP Systems
The major shift to IP systems has seen a dramatic increase in cybersecurity threats and attacks. Industry experts have always expressed concern over the dangers posed by unsecured camera systems, but these fears were realized in the fall of 2016 when separate cybersecurity incidents made headlines.
Better user education is a proactive approach to tighter cybersecurity that industry experts hope to see in 2017 and beyond. Video surveillance vendors will be expected to provide best practice guides, reference architectures, and certifications. Awareness and accountability are often the first steps to better security, and Francis Lachance, Director of the Video and Appliance Product Group, Genetec, hopes to see more of it in 2017. "We will need to inform customers on what is insecure, teach them how to avoid pitfalls and how to protect themselves, and show them how to better manage the risk of deploying non-secure security devices and systems."
In addition to consumer education, managed services and a shift toward cloud computing are expected to see a rise in demand. According to SecurityCamExpert, "by utilizing managed services and the cloud, businesses can manage their cyber security risk by employing companies whose sole purpose is to maintain data security." This will also allow consumers more network-based solutions.
Ensure Your Security
Is your surveillance system up-to-date and secure? Streamline Telecom experts can answer any questions you may have about your current camera system, or even provide security camera installation services. Contact us today for your greater New York City metro area security needs!